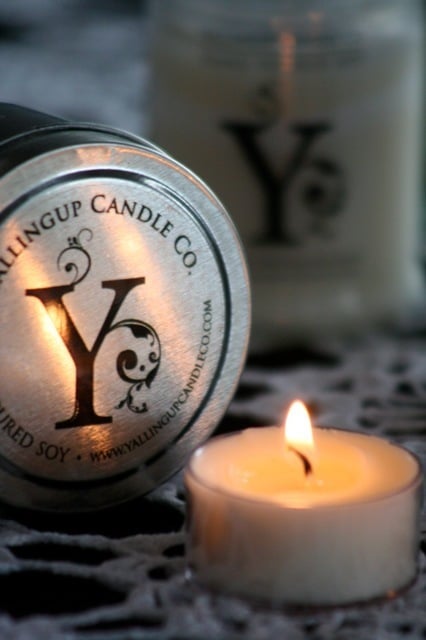 Yallingup Candle Co Large travel tin, great for on the the go.
Great as a gift or a lovely self indulgence.
Our favourite place for this size tin is around the bathtub or on the coffee table while relaxing with a great book
Burn time approx 50hrs
reusable/recyclable tin
Use the drop down menu below to chose from one of our hand blended fragrances
Driftwood Blaze
This smoky scent has a light musk, patchouli and vanilla blend with sandalwood, jasmine and concord grape to create this warming fragrance.
Coconut Lime
Fusion of fresh coconut and zesty lime, with hints of vanilla and verbena.
French Vanilla
Our signature fragrance. This is the fragrance that inspired us to launch our candle company. An almost edible scent of fresh vanilla beans and tonka beans with a hint of sweetened butter and warmth of toasted nuts.
Japanese Yuzu
A blend of Japanese yuzu fruit, sour orange and citron, with notes of grapefruit, lime and currant.
Lychee Tea
Bold and uplifting scent of exotic lychee with delicate black tea.
Rose Geranium
A delicate, feminine scent of rose with top notes of sweet, floral geranium.
Avocado Mint
Don't let the name fool you. A wonderfully sweet and fresh smelling fragrance with top notes of citrus like mandarin, lemon zest and sparkling berries. The tartness of citrus is mellowed with the gorgeous florals of jasmine, violets, geranium and the herbs - Spanish sage, clove leaf and mint leaf.
Persian Lemongrass
This unmistakable natural, fresh citrus scent of lemongrass is combined with zesty lim a soft floral undertone.
Australian Bush
Go for a walk through the Australian outback with this authentic fragrance with notes of lemon, pine and eucalyptus.
Pink Peony
A classic floral fragrance comprising pink petals of peony with African violets, yellow jasmine and wild rose.
The Green Room
A sophisticated masculine fusion of zesty bergamot, sage, amber and cedarwood.
Sandalwood Vanilla
A soft floriental with warmth added from warm amber, smooth woods & creamy vanilla and core accented with bergamot, orchid and jasmine.
Injidup Sunset
Blushed guava and luscious tropical mango intermingle with cracked coconut over warm undertones of pure spice and a touch of effervescent citrus.
Bohemian Dream
A very groovy scent, Bohemian Dream is inspired by Nag Champa incense. Full-bodied with enticing earthy notes, its sweet warmth is renowned, a fragrance unmistakable and ever so popular.
$8.00 Flat Rate Shipping Australia Wide
International shipping not available at this time